Market Basket Flyer offers Snow white cauliflower, romaine hearts 18 oz. pkg. Zucchini squash, Tilapia fillets, Almond breeze almon milk 64 oz. cont. Poland spring water 16.9 oz. btls. Mazolla corn oil canola one gal. Crisco vegetable oil canola 48 oz. pkg. Mt. Olive kosher spears 24 oz. jar. Cains mayonnaise 30 oz. jar.
Get a lot of products from produce dept. including Red potatoes 5-lb. bag. Dabdelion greens, Red, green & rainbow swiss chard, Yellow onions 2-lb. bag. Orchard valley harvest snack-pack, Petite gourmet carrots, white or brown pearl mushrooms 6 oz. pkg. Close trim broccoli crowns, tender green cabbage, baby spinach or spring miz 16 oz. pkg. Maradol papayas, anjou pears, Odwalla Gratifyinh grab-and-go goodness 18 varieties 15 oz. btls.
Market Basket Flyer
May 6 - 12, 2018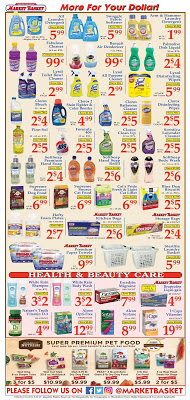 Health & BEauty care is available including TRESemme shampoo 29 oz. btl. Degree anti-perspirant 2.6 oz. invisible solid. Vaseline intensive care lorion 10 oz. btl. Crest toothpaste 6.4 oz. tube. NyQuil or DayQuil 8 oz. btl. Viva paper towels 6 pack, Huggies Diapers 11-44 count. Scotties facial tissues 220 count.
Don't forget to see Household Essential products such as:
Tide laundry pods 32-42 count.
Downy fabric softener 103 oz. btl.
Bounce fabric softener sheets 120 count.
Downy Un Stopables 13.2 oz. pkg.
Febreze fabric refresher 27 oz. btl.
Dawn dish liquid 23.6 oz. btl.
Cascade complete auto dish detergent 78 oz. btl.
Febreze air effect 8.8 oz. can.
Purex laundry detergent 43.5 - 50 oz. btl.
Final Touch exoressions crystals 24 oz. 45 oz. btl.
Soic & Span 40 oz. BTL.
Cinch Glass cleaner 32 oz. btl.
Arm & Hammer laundry detergent 122.5 - 150 oz.
Comet soft cream cleanser 24 oz. pkg.
Pledge furniture polish 9.7 oz. can.
Also see seafoods such as Heron point pasteurized crab claw meat 6 oz. can. Lump crabmeat 6 oz. can. Pier 33 Cultivated mussels 16 oz. box. Medium cooked shrimp, extra large shell-on shrimp. Honey chipotle salmon 10 oz. Teriyaki salmon 9 oz. lemon pepper scallops 6 oz. citrus salmon rub 8 oz. Asian salmon rub 8 oz.