Ctown Circular May 4 - 10, 2018. Get strawberries 1 lb. pkg. Red berries (16.9 oz.), vanilla almond (18.8 oz.), or original Kellogg's special K Cereal 18 oz. boxes. Clear or natural Apple & Eve apple juice 64 oz. btl. Lipton iced tea miz 70.5 oz. cnstr. Ajax 2 x liquid detergent 50 oz. btls., Ajax dish liquid 12.6 oz. btl. Nabisco chips ahoy! cookies 7-14 oz. pkg.
See Household essentials for more
saving this week
! Scotties facial tissues 250 ct. box. Fitti jumbo pk. diapers 19-36 ct. pkg. Lysol all purpose cleaners 32 oz. btl., Lysol disinfectant spray 12.5 oz. can., Lysol disinfecting wipes 35 ct. cnstr. Purex liquid detergent 43.5-50 oz. btls. Dial foaming hand spap 7.5 oz. btl. Here are Ctown circular this week
Ctown Circular
May 4 - 10, 2018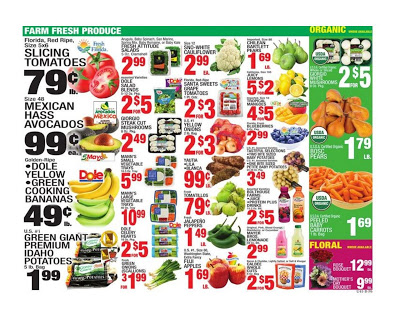 Farm fresh produce is available at Ctown! Fresh attitude salads 5 oz. Giorgio whole white mushrooms 8 oz. pkg. Fresh express salad 9-12 oz. bag. Strawberries 1 lb. pkg. Fresh express salad kits 9-11.7 oz. bag. Grimmway peeled baby carrots 1 lb. bag. Mama mia mini sweet peppers 1 lb. pkg.
Find General grocery products listed here for more saving this week!
Deer park spring water 24 pk. 16.9 oz. btls.
Marcal mega rolls towels 8 rolls pkg.
Marcal small steps napkins 400 ct. pkg.
Filippo berio olive oil 8.4 oz. btls.
Celestial seasonings herbal tea
New England coffee 10-12 oz. bags.
Cinnamon toast crunch 12.2 oz boxes
Post Honey bunches of oats 28 oz. box.
Del monte fruit 14.5-15.25 oz. cans
6" Krasdale white paper plates 100 ct. pkg.
Capri sun variety pack 40 pk. 6 oz.
hawaiian punch 128 oz. btls.
Smucker's grape jelly 32 oz.
Gatorade sport drinks 24 oz. btls.
Seventh generation tissue 12 rolls. pkg.
Bertoli olive oil 17 oz.
Colvita canola/olive oil blend 32 oz.
Crisco vegetable oil 64 oz.
Also see dairy delights like Chobani flip yogurt 5.3 oz. cup. Tropicana pure premium orange juice 59 oz. btl. Krasdale cream cheese 8 oz. pkg. Icelandic provisions SKYR yogurt 5.3 oz. cup. Bailey's coffee creamer 1 qt. btl. Tropicana punch 59 oz. Dannon light & fit greek yogurt 5.3 oz. cups. Earth balance original butter spread 13-15 oz. Tropicana single serve orange juice 6 pk. 8 oz.
This Ad may contain time-sensitive information and offers. Always check this page for the new posts about the latest Ctown promotions & deals next week.