Cardenas Ad Deals This Week. View one of the best deals from Cardenas weekly ad here. Get Headless raw shrimp 41/50 ct. cucumbers, Coca-cola sprite 20 pk/ 12 oz. McCormick Mayonnaise 28 oz. Ariel laundry detergent 5 kg or Tide simply liquid detergent 138 oz. Powerade 32 oz. Orange juice 64 oz. Yoplait fridgepack yogurt 8 pk. 6 oz. Yoplait gogurts family pack 16 ct.
You must see new deals of Cardenas if you are into
saving more this week
. Get fresh produce like Extra large avocado, Crispy jicama or cantaloupe, Fresh laroco 3.4 oz. or mushrooms 8 oz. Green lime, Red potato or red onion, Fruit seasoning 5 oz. Viloe aloevera drinks 12 pk. 16.9 oz bottles. Red delicious apple or grapefruit.
Here are cardenas weekly ads grocery store this week!
Cardenas Weekly Ad May 9 - 15, 2018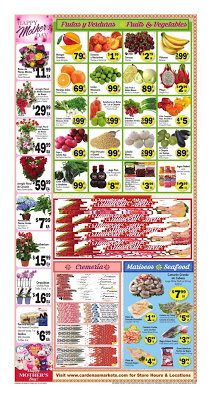 Beverages is available at Cardenas! Get Vitamin water 6 pk. 16.9 oz. Sprite or Coca-cola 6 pk. 5 liter. 7UP, RC Cola or Fanta flavors 2 liter. Jarritos soda 1.5 liter. Shasta soda 12 pk. 12 oz. Family orchard cranberry or apple juice 128 oz. Gold peak teas 64 oz.
Find general grocery products listed here:
Nescafe Clasico - Selected varieties, 7 oz
Mahatma Thai Jasmine Rice 5lbs
Caliornia Girl Sardines - Assorted varietes, 15 oz 2 for $3
Yellow Fin Tuna - Oil or water, 10.4 oz 2 for $4
Kraft Mayo - 30 oz 2 for $5
Langer's juice orange or pineapple 64 oz.
Gatorade assorted varietes 128 oz.
Nescafe clasico or de Olla 6.7-7 oz.
C&H sugar 4 lbs.
Zoe alkaline water 30.5 oz.
Joy Ice cream cups 12 ct.
Also see Home, Health and Beauty product including Bath tissue 12 pk. Napkin 500 ct. Panrosa hand soap 15 oz. Scott paper towels 6 ct. Ajax dish detergent 52 oz. Savile shampoo 750 ml.