Vallarta Weekly Ad May 9 - 15, 2018. Get fresh strawberries 3lb. pkg. Large headless white shrim 26/30 count, frozen/defrosted. Trafficanda large white eggs grade AA, 16 count. Coca-Cola coke zero, fanta or sprite 20 pack, 12 oz. cans. Doritos 9.25-10 oz. Ruffles 7.5-9 oz. Tostitos cantina chips 9-12 oz. Nabisco chips ahoy! cookies 15.2-19.5 oz. Ritz crackers 17.8 oz. Kool-aid jammers juice drinks 40 count. Scott extra soft bath tissue 12 rolls. Ensueno fabric softener 125 oz.
Cleaning with Alen USA products inlcuding Cloralen bleach 121 oz. Ensueno fabric softener 125 oz., Cloralen color safe bleach 60.8 oz. Pinalen pine cleaner selected varietes, Cloralen all purpose cleaner 22 oz. Here are Vallarta ad this week!
Vallarta Weekly Ad May 9 - 15, 2018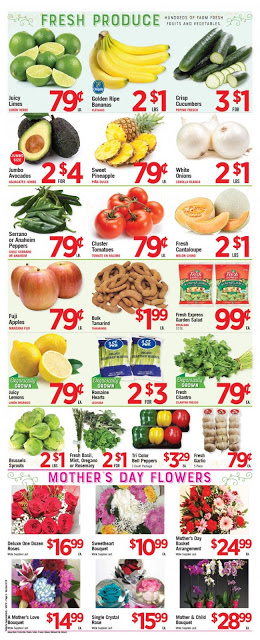 Don't forget to se dairy & deli dept. for more
saving this week
! Daisy sour cream selected varietes 14-16 oz. Floridas natural orange juice 59 oz. Dannon yogurt, Yoplait GoGurt 16 count. Chobani flips yogurt 5.3 oz. Coffee mate coffee creamer 32 oz.
General grocery products is available at Vallarta listed here:
Quaker cereal 12-14 oz.
Best food mayonnaise 30 oz
Frito lay single serve chips assorted varietes 2-4.25 oz.
Vallarta purified drinking water 24 pack 5 liter bottles
1-2-3 vegetable oil 33.8 oz.
Maseca corn flour 4.4 lb.
French;s yellow mustard 14 oz.
Crystal geyser drinking water 700 ml.
Vallarta ice pops 24 count
Value star charola trays 30 count springfield foam cups 16 oz. 20 count special value.
Liquid bleach cloro 96 oz.
Springfield foam plates 130 count
Milano grapeseed oil blend 2 liter
Gain flings! laundry detergent pods single use pods 16 count
Frito lay multipack chips 12 pack
Square carrot juice drinks 18 oz.
Also see seafood specials like large headless white shrimp 26/30 count, frozen/defrosted. Whole cleaned tilapia 350-550 grams. Headless white shrimp 71/90 count. Head on shrimp 50/60 count. Cooked shrimp tail off 100/200 count. Whole octopus, peeled butter flied shrimp 41/50 count, frozen/defrosted.